Guillotine knife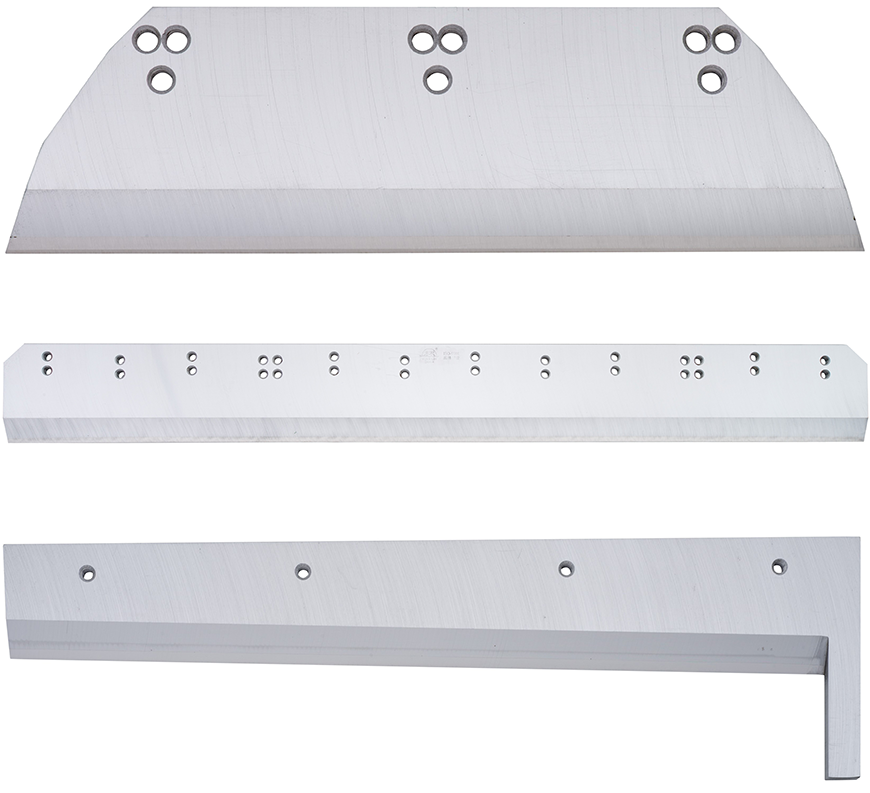 Guillotine knife
Papers/Fibers/Films
We supply all kinds of HSS inlaid or TC inlaid guillotine knife/ sheeter knife.
With edge material brazed firmly, heat treated for ideal hardness, grinded to extreme fflatness, our knives are able to hold sharp edges longer toward continuous heavy cutting force. Compares with inlaid Tungsten knife, it is easier for regrinding, making the maintainence more economical.
For most used knife types, we have prepared abundant stock ready to deliver, please check columns below. Regrinding service is also available.

Material :

Tool Steel, High speed steel, Tungsten carbide

Dimension :

please check below,or contact us for customization.


*1 set= 1 front knife + 2 side knife
*10405A25,10440A03= right knife,
*10405A24,10440A05= left knife

*10630A10=25C, 10630A12=15R,
10840A02=45°


*1 set = 1 front knife+ 2 side knife
*10560A07=front knife
*10405A29 & 10405A05= side knife


*3670 = 1 front knife(10560A05)+ 2 side knife(10322A03)
*10560A05=front knife
*10322A03 & 10392A06= side knife

*DS360=6 knife, DS251= 6 knife
*10320A01: SKD11
*10365A03=upper side knife

*1522= 6 knife
*10355A04=left knife
*10355a03= right knife



*DSS890=6 knife
*10520A02=upper knife
*10520A05=lower knife
*10360A02=lower left knife
*10360a01=lower right knife



*DS241= 6 knife
*10550A04= upp knife
*10365a03=upper side knife



*available in SKH2 & SKH4

*available in SKH2 & SKH4







*available in SKH2 & SKH4

*1 set= 1 front knife + 2 side knife
*10405A25,10440A03= right knife,
*10405A24,10440A05= left knife




*1 set= 1 top knife + 2 side knife
*10580A03= top knife, 10450a05= side knife,







*available in SKH2 & SKH4


*1set= 1 top knife+ 2 side knife
*10560a02= top knife
*10424A05=left knife, 10424A06=right knife











*1 set= 6 knife
*10520A07=upper knife
*10355A09= upper right knife
*10355A10= upper left knife
*10360A08=lower right knife
*10360A09=lower left knife
*10520a06= lower knife


*1118A02= 65 starting point
*11118A08=35 starting point
*11118A37=25 starting point



*available in SKH2 & SKH4


*available in SKH2 & SKH4

*available in SKH2 & SKH4




*available in SKH2 & SKH4

*available in SKH2 & SKH4

Plain knife


Plain knife
Material :

SKH(JIS) inlaid